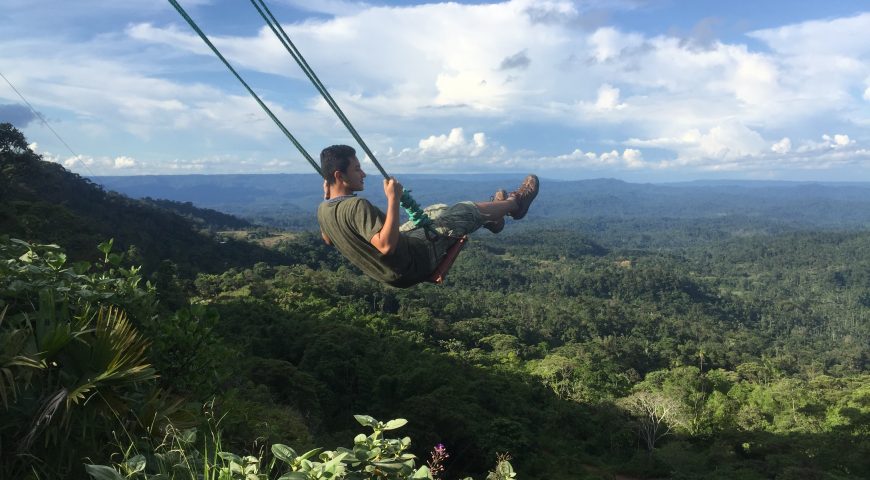 Baños – The House tree and the swing
I always wanted to go to Baños one day, the "swing at the end of the world", the waterfalls. And today I went! Baños – swing Casa del Arbol
I took the bus from Riobamba to Baños, a bus drive of 2/3 hours, with once again a great view along the way.
I arrived in Baños, looked for a hotel (which are really easy to find, they're everywhere), within 5 to 10 minutes I had a room (for 10$ a night).
One of the things Baños is known for is Casa del Arbol, also known as the swing at the end of the world. The first thing I did when I got a room was looking for someone who could bring me to Casa del Arbol. The tourist offices aren't hard to find (they're everywhere).
They picked me and some other tourists up with a bus, we first drove to a point from where you had a great view over Baños. After about 15 minutes we drove further to Casa del Arbol. Once I saw the swings, I was super excited. I waited in line for about 5 to 10 minutes. And then I was my turn! I went on the swing, I got strapped down (so I wouldn't fall down). There is a person who pushes you, and then you're swinging on the swing, with a great view and great feeling of freedom.
We stayed at Casa del Arbol for about an hour, were you can enjoy yourself with a great view, some traditional Ecuadorian food and you can get on some other swings.
We went back to the city centre, I walked around for a bit, looked for some food (found some vegetarian food, yay) and went back to my hotel.
 Baños – swing Casa del Arbol
The next morning, I walked through the city centre and went through some shops. I decided what to do in Baños, because there is a lot for you to do in Baños, you won't get bored. You can go rafting, canyoning, paragliding, bridge jumping, canopy, horseback riding, you can go to the jungle for a few days.
I decided to go paragliding, I've never done it before and for 60$ you can go paragliding, so I looked for a tourist office and booked my trip. Around two I met my guide, he first showed me how to paraglide, how to get up in the air and how to get down.
We drove for about 30 minutes to the location, once you get there you have a great view over Baños and you can see the volcanos Tungurahua and Cotopaxi. They made everything ready and we were ready to get up in the air! Once you're in the air you have a great view over Baños and all the other cities that are nearby. You are allowed to take pictures, so of course I took allot of pictures!
The feeling you have once you're up in the air is amazing. We did some tricks, which is really, really awesome! After about 30-45 minutes we went back down, the landing didn't go so well (my first time). But all in all I had a great flight. We drove back to Baños, where they dropped me off and I walked through the city centre again, they have a great city centre. I looked for some food and went back to my hotel.
The next morning, I wanted to go bridge jumping but because of the heavy rain fall I decided not to do it. Instead I went to the church "Church of the Virgin of the Holy Water", were they have paintings that tell the history of Baños.
The weather cheered up little, so I went for a walk through the lovely nature Baños has to offer, but it started to rain again, so I took went home earlier.
I would definitely go back to Baños, I had a really great time. If you ever find yourself in Ecuador, you should definitely go to Baños.