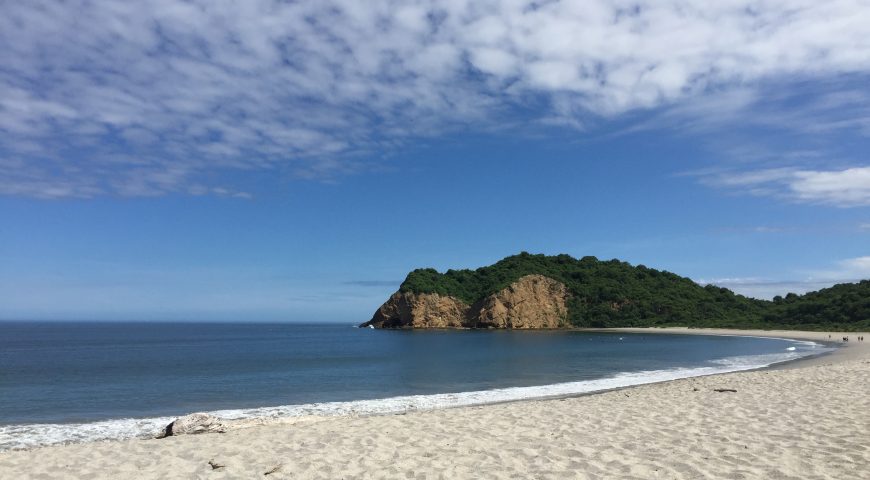 Puerto Lopez
Puerto Lopez coast Ecuador
Before our trip to Galapagos me and my boyfriend wanted to visit the beautiful Puerto Lopez coast Ecuador. We left Riobamba early and the bus to Guayaquil was 5 hours in a nice bus. Puerto Lopez is located 4 hours away from Guayaquil by bus. The bus station in Guayaquil is heavilly crowded and we had a lot of luggage so it was a bit tricky for us to get to the bus but once we bought our ticket it was easy to find our bus and get on. Since we had travelled a bit allready that day we were tired and I just wished that we could be there soon. 4 hours later we arrived. Puerto Lopez is a fishing village and if you go out early in the morning you can watch the fishing men get back from the fishing trips and a lot of birds are waiting to get their share of fish.
Puerto Lopez coast Ecuador
Since we are going to Galapagos soon we didn't want to spend a lot of money before so we just chilled and relaxed. The first day it was great weather. We stayed on the beach pretty much the whole day. The beach was empty, maybe 5 more persons or so you could see get a tan so you don't have to feel starred at while you are working at your tan. Between June and September you can watch wales in this area and there is a lot of agencies that can arrange that for you. We stayed at a hostel called Hosteria Mandala. We thought it was a super place to stay. We stayed in a bungalow with hammocks and you couldn't get a better place according to us. There is lot of restaurants in the area and everything is close since there is just a long shoreline. Along the beach there is bars so it is not hard to get hold of a drink if you want one. So if you want to relax, get a tan, swim in the ocean and get a coco drink in the evening this is the place to go.
By Hillevi